-Valley-
The Tigers started their second week of fall practice last night.  With other fall sports underway, attendance was fairly bleak.  Luckily we still had enough bodies to split into two groups which allowed for more fundamental work with the new players.  While the returning players worked on schemes, the newbies focused on concepts like cradling, ball retention, and proper ground ball technique.
After noticing the newbies' conditioning left something to be desired last week, Coach Alec and I decided to do some running.  Instead of simply making the boys run, we set challenges.  I challenged the boys to run the width of the football field twice; every player that beat me was done, but those that did not had an extra lap.  To further encourage them, I said that I would run an extra lap if they all beat me.  Because I'm 32, have had limited sleep since Raelee was born,  and outweigh everyone of them by at least 100 pounds, I prepared myself for the extra lap.  Imagine my surprise when only one player crossed the finish line before me!
Needless to say, we are planning for more conditioning prior to the fall tournament…
-Fall Clinics-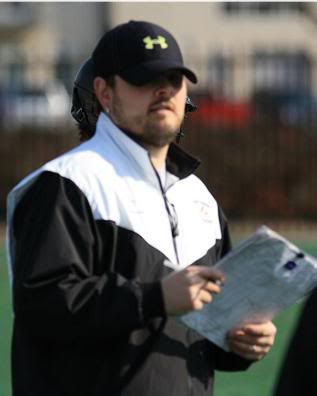 As of right now there are no additional clinics planned for this fall.  If you have a group of 10 or more interested players, I can work with you to set up a clinic – even on weekends beginning October 29.  Clinic information may be published and distributed to bring in additional participants.
Contact me to get started.
-Box Lacrosse League-
Registration for the 2011 Box Lacrosse League is currently open!
The league is open to current high school players, college players, and adults.  This is a fast-paced, competitive league with checking.  Since this league does not have practices, experience is preferred, but not required.
Individual registration is $75.  Registration closes on Thursday, October 20.  Click here to register.