After St Ambrose University in Davenport announced their decision to sponsor lacrosse beginning next season, I made a decision to take a look at the other nearby National Association of Intercollegiate Athletics schools with lacrosse programs.  In Iowa that group currently includes St Ambrose,  Cornell College in Mount Vernon, and Dordt College in Sioux Center.
Because the NAIA does not sponsor lacrosse (it is currently being evaluated as an "emerging sport"), most teams* compete in the Men's Collegiate Lacrosse Association.  Both current Iowa-based teams participate in the league's second division via the massive Great Rivers Lacrosse Conference; St Ambrose announced its intention to do the same.  The level of support differs from school to school, with some programs operating as traditional clubs and others serving as true varsity squads complete with scholarships.
As is often the case in the modern age, Wikipedia served as the jumping off point for this excursion towards understanding the nature of how the NAIA teams function within the MCLA universe.  Under the NAIA Lacrosse topic, there is a list of programs that sponsor lacrosse.  Truthfully, the list is outdated as it includes programs like Northwestern College in Orange, whose program no longer exists.  Other programs like Cornell and St Ambrose are noticeably absent.  Still, the list is as good as any to begin this quest.
To kick off this series, we head to the oldest of the three Iowa teams, Dordt College.  Founded in 2000, the Sowers make their home in the small northwest Iowa community of Sioux Center.  My friend, Nate Weigel, currently plays for Dordt and serves as the team vice president, which inspired the choice.
Wikipedia lists Dordt as a varsity team.  Looking at the school's athletics website, this certainly seems to be the case.  The question then, is what type of support the team receives from the school.  I contacted head coach Tyler Dooyema to find out.
Dordt Lacrosse is technically a club team where everyone pays club dues at the beginning of the year, but it is a very affordable amount for a college student's budget and covers the players equipment and travel expenses.  Now where it gets a little confusing is that we do receive some funding from Dordt's athletic department to help with expenses like league dues, travel, etc., but it does not cover much more than that.  But it is also how we can keep our club due so low. We also do a few fundraisers throughout the year to get some spending money to upgrade equipment, etc.
The only things that a player has to pay for when they play at Dordt (other than club dues) is for their stick and food on trips, we provide nearly everything else for them.
Coach Dooyema did not include a figure for this year's dues.  But he did comment on financial assistance, which is very important for most college athletes regardless of their level of play.
Since we are a club team we do not offer any scholarships for playing lacrosse, which I know is a big turnoff for players,  But over 98% of the students at Dordt receive financial aid, which helps out a lot. One benefit of not offering a scholarship that I have found is that my players are committed because they love the game, not because they are getting paid to play and quite honestly, I'd take that any day.
Essentially this means that Dordt operates like most teams in the MCLA.  They offer no scholarships and receive a small subside from the athletic department.  Its inclusion on the department's website withstanding, the lacrosse team is really no different than the programs at Iowa and Iowa State.
But what about Coach Dooyema?  Does he receive a salary from the University, as is the case at other NAIA – and even some NCAA – schools with MCLA teams?
This is a voluntary gig for me as I do have an 8-5 job as well. I love the game and I want to see it continue at Dordt because too many times I we have seen a team without a coach fold after a year.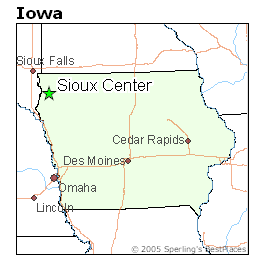 After talking about his program, Coach Dooyema also offered his insight on the growth of lacrosse in his corner of Iowa.
Its a great sport and very addicting once you start but just not a lot of people know about it (as you may well know), especially here in Northwest Iowa. When I was in college I was thinking hard of trying to start a lacrosse program at an area high school but we are kind of on an island up here when it comes to lacrosse.

Once I graduated I became the assistant coach at Dordt and now I am the head coach.  My hope is to keep Dordt lacrosse going and then the high schools see that it is a quality sport and add it to their programs and it just continues to grow and we are starting to see that with the hockey club at Dordt and the area high schoolers.
Contact Coach Dooyema for more information about the Dordt Sowers lacrosse team.
* This article specifically focuses on men's lacrosse teams.