*Notice:  This article will focus on boys lacrosse at the high school level as it is the area that I am most directly involved in.  Girls lacrosse in Iowa is developing at a slower clip, so we may visit that topic in the future.
Some History
When I started the Central Iowa Lacrosse Association in 2008, I had no clear direction.  I simply had a vague notion of what I wanted to do (spoiler alert: play recreational lacrosse as an adult) and some ideas on how to get there.  After hooking up with the just-born Valley Tigers Lacrosse Club in West Des Moines (now WDM Lax), my ideas expanded and changed to take advantage of the available players and resources.
Fast forwarding a few years, it is safe to say that lacrosse is firmly established in West Des Moines.  We have dedicated varsity and JV teams.  Last year we launched a spring middle school team that compliments our recreational youth summer program.  We even brought the local high school girls team into the fold.  Unfortunately we no longer have an adult program operating, but that's a tale for another day…
Regular readers will recall that I announced the arrival of a second team in the Des Moines metro in December.  Playing in the city's northern suburb of Ankeny, the Hawks are jumping into the Nebraska High School Lacrosse League with both feet.  They will field teams at the varsity and JV levels in their inaugural season.  Needless to say, we are stoked to have local competition and have been working with the Hawks' coaches to help solidify and strengthen the lacrosse community in the city as a whole.  Plans have already been made to make the varsity games between the teams into full fledged Friday Night Lights events.  As an added bonus, the Hawks JV will open their season by hosting the Tigers JV next Saturday.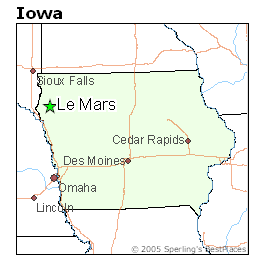 A couple of weeks ago, I was interviewed by a local newspaper in Le Mars, Iowa – a town over three hours northwest from West Des Moines, near Sioux City.  The author was an East Coast transplant who had interned for the Rochester Rattlers before relocating to what is decidedly a rural part of my home state.  He also talked to Tyler Dooyema, the head coach at Dordt College in nearby Sioux Center, about the sport's potential for growth.
On my way home from practice the other night, I had a lengthy phone call with Brad Keel, head coach at St Ambrose University in Davenport.  A fully funded NAIA team competing as a varsity program in the MCLA, the Bees are currently the lone Iowa college offering scholarships.  Keel and I spent a good chunk of time simply talking about the sport and our respective visions for its growth in Iowa.  This conversation, as well as the interview with Jordan Morey, inspired me to write this post.
The Hurdles
In order to build an Iowa high school lacrosse league, or even an Iowa division of another league, teams have to exist.  I know it sounds simple, but it is a concept that many just cannot fathom.
We live in an age where most sports are plug and play.  Parents sign up junior for the local baseball/soccer/basketball/football league, drop him off and go on their way.  Games are more or less local; travel is prearranged when they are not.  Practices are coordinated to the letter well in advance.  Uniforms and fundraising are one and done at registration.  Volunteers are essentially limited to supplying juice boxes and orange slices.
Having been involved with the Valley program since its first season, it's taken several years to get a workable number of parents to understand that this is not the way lacrosse works at the moment.  As the first team in the state, and a club team at that, everything is done at a grassroots level.  Our league is headquartered in another state; roughly half of our games are two to three hours away.  Parents are responsible for driving and carpooling to get our players to away games.  Practice schedules are built around field and facility availability (though we have great relationship with WDMCS that smooths these issues out).  We've struggled with buying uniforms many times over the years; last year we did not even receive the uniforms we ordered.  Our volunteers handle literally everything from carpooling to score keeping to bringing water; even our coaching staff is comprised of volunteers, myself included.
To top it all off, players are responsible for providing their own equipment.  At a realistic level, parents are looking to spend around $400 minimum – half of which is the helmet – to properly outfit a high school player.  Of course that is on top of US Lacrosse dues, league dues, and team dues/uniform costs.  For the record, our players paid a total of $350 this season ($35 USL, $90 NELAX, $225 WDM Lax).  Sure $750 total a far cry from what hockey costs (the local teams' dues are around $3000 plus equipment), but is significantly greater than the more familiar (and state sanctioned) Iowa high school spring sports: track, baseball, and soccer.
Of course our dues are relatively low because we already have goals and we get our field space for free (like I said, we have an outstanding relationship with one of the state's best school districts).  We also have coaches and parents that are willing and able to work for free.
Since the Tigers first season in 2009, we have lost six coaches.  Four of them left in one fell swoop following the 2012 season; I am the only original coach left.  All of the departing coaches have moved on to other things in their personal and professional lives that took them out of the state, which is completely understandable.  We lost our middle school coach over the off season for similar reasons.  I  struggle with the balance between my family, my professional life,and lacrosse on a regular basis.
Last year a couple of dads stepped up as volunteer coaches.  This year the entire middle school team is coached by players' dads.  Although they are relatively new to lacrosse, they bring significant experience from coaching other sports.  This may be one of the keys to the development of the sport as it grows in Iowa.  I will expand upon this a little later…
Aside from coaches, the greatest personnel need is referees.  Currently we have two certified referees in Des Moines; unfortunately neither will be officiating this season.  One is now running the Ankeny.  The other simply does not have the time due to his professional life.  Because we play in the Nebraska High School Lacrosse League, we are fortunate to have their officials travel to West Des Moines and Ankeny as part of our league dues.  Unfortunately there are times when the league needs to import additional officials from Kansas, Missouri, and Minnesota to meet our league's needs as the aforementioned situation of being too busy to officiate is a widespread issue.
Overcoming the shortage of both coaches and officials will be paramount to creating an Iowa high school lacrosse league.  If we can solve one, then we should be able to solve the other.  Experienced coaches, not necessarily lacrosse coaches, are plentiful in the state.  The same can be said for officials – especially basketball and football officials.  There may be a decent number of hockey officials here as well, based on the number of high school, USHL, and NAHL teams in the state.
Part 2 will review previous ideas for creating an Iowa Lacrosse League before examining the most likely candidates to do so in the near future.
Part 3 will further examine the viability of the candidates discussed in Part 2 and lay out a logical road map for establishing an Iowa Lacrosse League based on this information.