*Notice:  This article will focus on boys lacrosse at the high school level as it is the area that I am most directly involved in.  Girls lacrosse in Iowa is developing at a slower clip, so we may visit that topic in the future.
Part 1 of this article discussed the history of high school lacrosse in Iowa and addressed some of the major problems impeding its growth.
Part 2 reviewed previous ideas for creating an Iowa Lacrosse League and examined the most likely candidates to do so in the near future.
Travel
To get an idea of the feasibility of the  league from a travel perspective, we need to consider the distances between locations.  The basic idea is that in order for the league to work, it has to be an improvement upon or at least comparable to the existing teams' situation.  I am sticking to the previously noted cities for this illustration, but am by no means excluding the potential for smaller communities to field a lacrosse program.
Let us start with the travel that Valley has experienced on an annual basis thus far:
West Des Moines to Omaha, NE 134 miles W
West Des Moines to Lincoln, NE 183 miles W
By comparison, here are the distances that each of the hypothetical teams would travel for games.  For Valley, the point of reference, travel distances are comparable to the current situation.  Of course this ignores the greater number of games against local competition.  For reference, Omaha is just over the Missouri River from Council Bluffs.
Des Moines
Des Moines to Sioux City 198 miles NW
Des Moines to Waterloo 127 miles NE
Des Moines to Dubuque 202 miles NE
Des Moines to Cedar Rapids 127 miles E
Des Moines to Davenport 168 miles E
Sioux City
To Des Moines 198 miles NW
To Waterloo 213 miles E
To Dubuque 301 miles NE
To Cedar Rapids 264 miles SE
To Davenport 346 miles SE
Waterloo
To Des Moines 127 miles SW
To Sioux City 213 miles W
To Dubuque 91 miles E
To Cedar Rapids 55 miles S
To Davenport 136 miles SE
Dubuque
To Des Moines 202 miles SW
To Sioux City 301 miles W
To Waterloo 91 miles W
To Cedar Rapids 73 miles SW
To Davenport 71 miles S
Cedar Rapids
To Des Moines 127 miles W
To Sioux City 264 miles NW
To Waterloo 55 miles N
To Dubuque 73 miles NE
To Davenport 83 miles E
Davenport
To Des Moines 168 miles W
To Sioux City 346 miles NW
To Waterloo 136 miles NW
To Cedar Rapids 83 miles W
To Dubuque 71 miles N
Obviously some of the above road trips may not be feasible.  Anything too far over 200 miles passes the 4 hour mark, which makes things extremely difficult.  For games between Sioux City and Dubuque, Cedar Rapids, or Davenport, the recommendation would be to meet up in Des Moines or Waterloo.  Given the assumption that these games would be played on a weekend, it's conceivable that each team could play a double header with a local team (ie Sioux City vs Valley, Dubuque vs Ankeny, followed by Sioux City vs Dubuque).
How to Get There
On paper, everything should work to create an Iowa Lacrosse League, at least from a team standpoint.  The first step is establish a solid foundation of four teams; as stated above, the easiest set up would be to do so in Des Moines.  We're halfway there!
The next step would be to add two more teams to create a six team league.  NELAX currently fields ten teams (counting both Iowa teams), but only fielded eight two years ago; in 2008 there were only six varsity teams – all in Omaha – in the league.  The point is, six solid teams is a viable starting point for a fledgling league.  From there, teams can be added and divisions can be created.
So, which two?  Logically it would be two from the eastern part of the state.  Some combination of Waterloo, Dubuque, the Quad Cities, and Cedar Rapids, or even two from one of those metros, would make the most sense.  Sioux City is kind of on an island in the west, but if they managed to create two in the region, or were willing to travel for pretty much all of their games, it could work.  A fifth team in Des Moines (I previously listed three active possibilities) is another viable option.  The point is at least two teams that are within three hours of Des Moines would be enough to make a go of things.  more would be even better.
Now here's the tricky part.  In order for this to happen, individuals residing in these communities are going to have to find a way to make things work.  Somebody is going to have to step up and lead. Somebody is going to have to do the work to get things organized, keep them organized, and make the program visible.  Frankly, if you're not visible then you don't exist.
Make a Facebook page or website.  It does not have to be fancy; it just needs to be accurate and updated.  People need a place learn about your program and when and where events will be held.  Make it straight forward, easy to use, and even easier to find.  On top of that, I am more than happy to post about your program (or allow you to do so) on Lacrosse All Stars.
I won't lie, starting a program takes a lot of work.  Maintaining a program takes even more.  Growing a program makes both look like child's play.  At least that is the case until you firmly establish yourself.  As the program grows and becomes more established, participation increases almost naturally.  That is how the Tigers have reached the point where serious discussions about spinning off teams are occurring.  It took six years to reach this point, so do not expect it to happen overnight.
Not only do players need to be trained, but coaches need to be trained as well.  US Lacrosse has an excellent coaches' education program.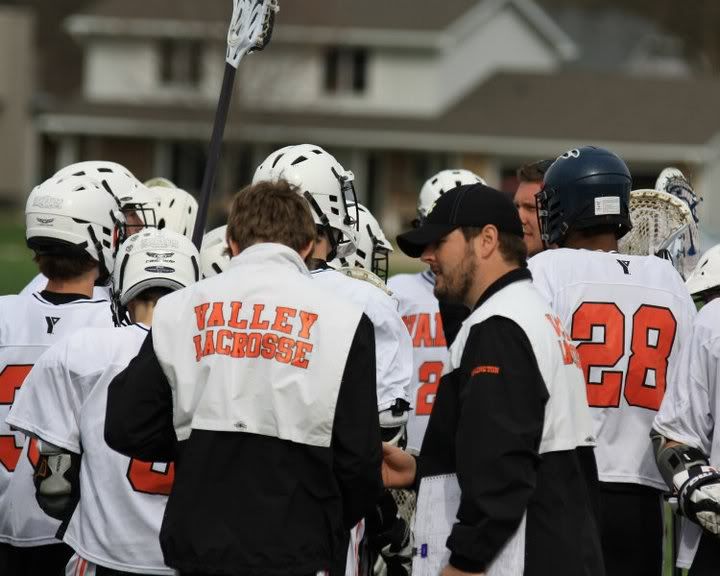 Courses are frequently offered in our region.  I've attended courses on Kansas City and Omaha;  I've seen listings for Minneapolis, Milwaukee, Chicago, and St Louis several times in the past.  Taking advantage of these programs is a great way to get up to speed.  Of course it helps if you have coached other sports too.  So many concepts carry over from basketball and hockey with minor tweaks.  Even soccer and football concepts frequently apply.  But the big thing is that if you already know how to coach then you only have to learn the lacrosse part of things (which is way easier than it seems).  The art of coaching is the hard part of the equation.
From there it is a matter of not having officials.  I do not have an easy answer for this problem.  However, there are routes that will become easier to pursue as teams emerge.  With more in state teams, conversations can be held with the officials organizations for football, hockey, basketball, etc.  Much like coaching, officiating involves both understanding the rules and knowing how to officiate.  Theoretically, a basketball referee should be able to learn and adapt to lacrosse with minimal issues.  Of course the reality is that lacrosse is hard to officiate if you do not have first hand knowledge of the game; the endless stream of rule changes does little to help.
There is also the option of importing referees from the surrounding states as needed.  While this can be a short term solution, this is cannot be a clutch in a viable league.  Luckily the surrounding officials organizations and US Lacrosse can offer assistance with training local officials.  Undoubtedly, this is something that will have to be done in order to create a truly viable league.
Conclusion
While the growth of lacrosse does seem somewhat slow in Iowa, there are signs that it is speeding up.  Every year it seems that an Iowa Lacrosse League becomes more of a viable possibility.  If and when individuals step up and take control, multiple communities across the state can and will start sponsoring lacrosse programs.
At this point, we are only four teams away from being able to start an Iowa Lacrosse League.  With some hard work and strong communication, we can whittle that down year-by-year.  If we can add just one team each in the next four years, we will have arrived at our goal of a viable six team Iowa Lacrosse League.  All it takes is dedicated players and volunteers with the drive to make it succeed and the ability to pool the necessary funds.
For more information about the lacrosse programs in Des Moines, please visit the Central Iowa Lacrosse Association website.